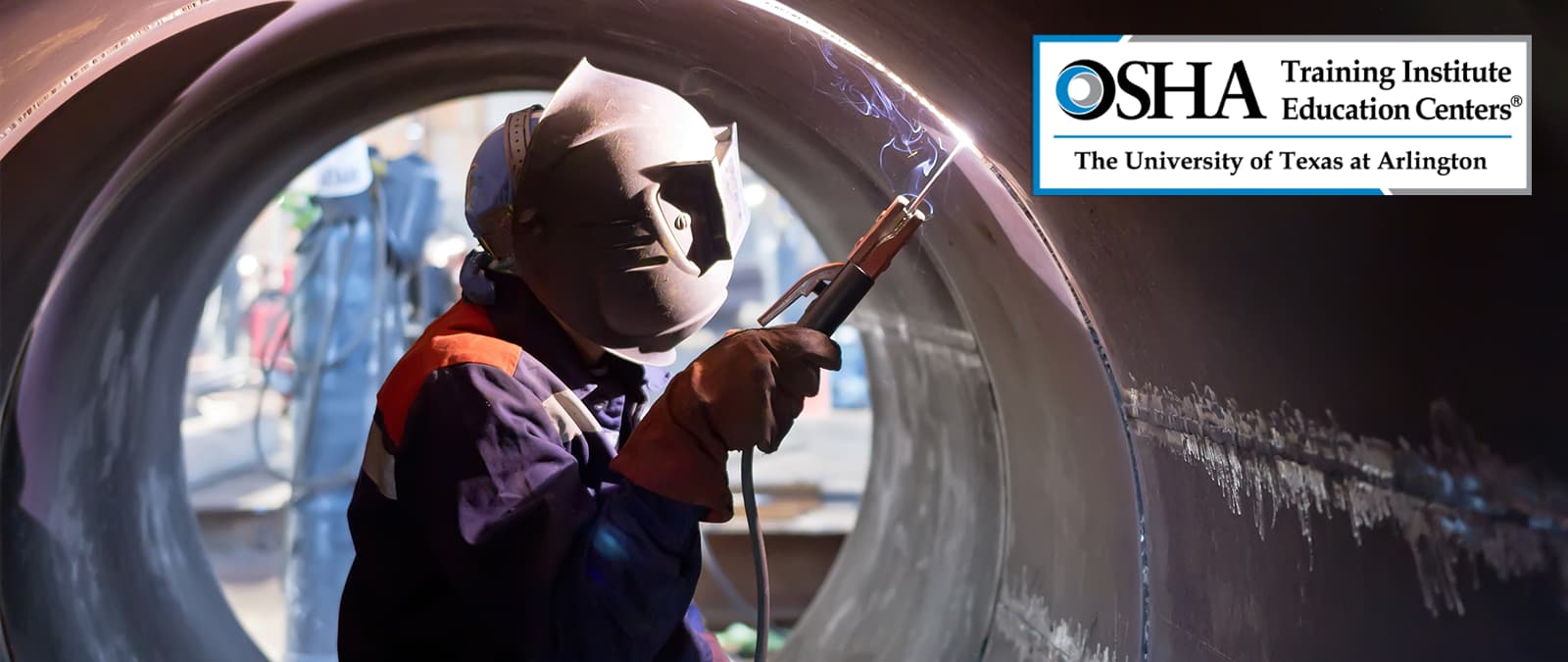 The OSHA Education Center at The University of Texas at Arlington is the top-ranked OSHA Training Institute Education Center in the country. The Center provides OSHA prescribed professional and regulatory instruction through educators with decades of real world experience and leadership that upholds the highest quality standards to ensure students have training and support services required to protect workers, reduce losses, and realize the profitability of a safe and healthful work environment. Additionally, four levels of professional certifications are available in multiple tracks including: Safety and Health, Construction, General Industry, Oil & Gas, and Risk Management.
CERTIFICATION PROGRAMS
COVID-19
New CPWR COVID-19 Exposure Control Planning Tool
The Center for Construction Research and Training has launched a free online COVID-19 Exposure Control Planning Tool. This Planning Tool was developed in response to recommendations from OSHA and NIOSH that employers have a plan to assess the risk and take action. The new Planning Tool allows a user to create their plan in four steps:
Assess the risk for exposure to COVID-19 and the control measures that will be used to prevent exposure, such as using social distancing, as shown in the photo below from last month's Falls Stand Down.
Establish a protocol for screening workers and visitors and handling those who become sick or may have been exposed on the job.
Identify the COVID-19-related training that will be provided, including who will be trained, how the training will be provided, and who will conduct the training.
Complete the final elements of the plan, including information about the job and who will be responsible for implementing the plan.
The Planning Tool is aligned with the COVID-19 Construction Clearinghouse to make it easier for users to find ways to implement controls, conduct screenings, and provide training. The new planning tool is still evolving; if you have questions or ideas to improve it, please email: covid19@cpwr.com.
DOL/Health and Human Services Guidance: Preparing Workplaces for COVID-19
Check out OSHA's website on COVID-19 for the latest information on specific industry guidance, hazard recognition, medical information, and control and prevention. Information is available on all aspects of compliance from prevention and protection to reporting and recordkeeping.
OSHA developed COVID-19 planning guidance based on traditional infection prevention and industrial hygiene practices. It focuses on the need for employers to implement engineering, administrative, and work practice controls and personal protective equipment (PPE). OSHA's COVID-19 planning guidance is available in both English (OSHA 3990-03 2020) and Spanish. The Center for Construction Research and Training (CPWR) has been working closely with their research, government, and other industry partners to respond to questions about the spread of the COVID-19 disease and to provide the latest information on protecting construction workers on the job. They have developed a COVID-19 resource page in both English and Spanish.
UPDATES
Falls to Lower Level Tops List of Costliest Construction Injuries
The top five costliest injuries in the construction industry in 2018 had a combined price tag of nearly $9 billion, according to the Liberty Mutual Workplace Safety Index – an annual ranking of serious, nonfatal workplace injuries based on direct workers' compensation costs involving more than five days away from work. Falls to a lower level was the costliest injury at almost $3.6 billion, followed by overexertion resulting from handling objects ($2.2 billion), struck by objects or equipment ($1.4 billion), falls on the same level ($990 million), and other exertions or bodily reactions ($670 million). Those five injury types made up around 84% of all injuries in construction for the year.
Learn how to prevent these costly incidents by attending one of our OSHA #3115 Fall Protection classes in-person or via live webcast!
OTHER NEWS
Prevent Heat Illness at Work
Although heat illness is preventable, every year, thousands of workers become sick from occupational heat exposure, and some cases are fatal. OSHA's Heat Illness Prevention campaign's newest resource, Prevent Heat Illness at Work, highlights how to protect workers from outdoor and indoor heat exposure. Download it now!
Crane Operator Qualifications
On February 7, 2019 the Cranes and Derricks in Construction: Operator Qualifications final rule became effective, requiring employers using cranes in the construction industry to document their evaluation of their crane operators. That same day OSHA issued temporary enforcement guidance indicating that while it will still enforce the requirement that employers evaluate their operators before allowing them to operate cranes it is going to provide additional time for employers to begin to document the evaluations. Questions? Check out OSHA's FAQs.
Excavation and Trench Safety
Each year, construction workers are injured or killed when the walls of the trench they are working in collapse. One cubic yard of dirt can weigh 3,000 pounds or more. As a result, survival time in a collapsed trench can be as little as a minute if the victim is buried and there are no air pockets. This means that sometimes, not even immediate rescue can save the victim. Trench collapses and cave-ins are a serious threat to workers, but they can be prevented.
PREPARE a safe trench. - Provide safe entry and exit before starting work. - Keep materials at least 2 feet away from the edge.
PROTECT workers from a cave-in by using protective systems. - Sloping or benching trench walls, or - Shoring trench wall with supports, or - Shielding trench walls with trench boxes.
INSPECT the trench for hazards. - Look for standing water and other environmental hazards. - Never enter a trench unless it has been inspected and approved by the competent person.
OSHA has made reducing trenching and excavation hazards the Agency's Priority Goal. To learn more, enroll in next OSHA #3015 Excavation, Trenching, and Soil Mechanics course.
Region VI OSHA Enforcement Initiative Targets Tank Cleaning Operations
Effective July 23, Region VI OSHA launched a new enforcement initiative to target transportation tank cleaning operations in Arkansas, Louisiana, Oklahoma, and Texas. Workers employed in the industry face many hazards that can lead to serious injury, illness, and death, including fire, explosions, hazardous atmosphere, and hazardous chemicals. The targeted industries include:
NAICS 484110: General Freight Trucking, Local
NAICS 488210: Support Activities for Rail Transportation
NAICS 488490: Other Support Activities for Road Transportation
NAICS 488510: Freight Transportation Arrangement
NAICS 562910: Remediation Services
NAICS 562920: Materials Recovery Facilities
NAICS 562998: All Other Miscellaneous Waste Management Services
This initiative provides OSHA enforcement officers the authority to evaluate the employers' workplace(s) at all programmed, unprogrammed, or other limited-scope inspections pertaining to transportation tank cleaning operations to assure that employees are being properly protected.
Region VI OSHA and OSHA Education Centers have partnered to prepare a free webinar to assist companies in understanding the hazards and the controls. Outreach, consultation services, and training will be provided to affected employers as requested.
"Take 3 in 30" Challenge
Management leadership is a core element of a workplace safety and health program. Accelerate your program and show your commitment in your workplace. 3 in 30! Here's how you do it:
Take 3 actions in 30 days
There are lots of ways to accelerate your program! Choose from our list or pick one of your own. Every workplace is different so select actions that work best for you.
Share in your workplace
It is important for your employees to see your commitment to safety! Show them that safety starts with you! List your three actions and share it on social media, in your company newsletter, or post it in the workplace.
Accept your challenge coin
You did it! Visit our website once you complete your activities to download your virtual challenge coin for showing Management Leadership. Share it on social media, post it in your workplace, or put it in your signature file – display it proudly!
Download the Take 3 in 30 Challenge and share in your workplace and on social media!