Environmental Training Institute (ETI)
The UT Arlington Division for Enterprise Development offers compliance assistance training for those managing environmental challenges or implementing environmental regulations in Air, Waste, Water and Management. Through training and education, you or your employees can play an active role in your sustainable compliance strategy. Visits from the EPA can be extremely expensive. Avoid paying penalties by educating your workforce. Courses can be taken individually or in support of certificate programs, simply register for your courses and begin the learning process. Finally, with contract or on-site training, we bring the course materials and experts to your facility, customizing the curriculum for your business, on a schedule that is convenient for your operations.
---
FEATURED EVENTS
Air Quality Compliance in Texas - Self Paced Online Course
This one-day course provides an overview of air quality regulations and permitting in the state of Texas. Those new or experienced to air quality compliance will benefit from this course. Through classroom exercises, students will gain an understanding of the state regulatory requirements.
AIR210 Air Quality Compliance in Texas - Self Paced Online Course

---
ADDITIONAL TRAINING
Contract (On-Site) Training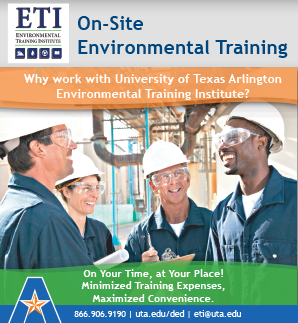 Do you have a specific training requirement? Do you want to tailor your training to meet your specific requirements, regulatory requirements, application, personnel, or situation? We can incorporate your specific requirements to provide custom made training to fit your unique requirements. Contact us today!
Authorized Trainer Program
The UT Arlington Authorized Trainer Portal is a web-based application designed with our trainers in mind to provide a more efficient and reliable method of requesting UT Arlington Authorized Training cards.