Environmental Training Institute (ETI)
The UT Arlington Division for Enterprise Development offers compliance assistance training for those managing environmental challenges or implementing environmental regulations in Air, Waste, Water and Management. Through training and education, you or your employees can play an active role in your sustainable compliance strategy. Visits from the EPA can be extremely expensive. Avoid paying penalties by educating your workforce. Courses can be taken individually or in support of certificate programs, simply register for your courses and begin the learning process. Finally, with contract or on-site training, we bring the course materials and experts to your facility, customizing the curriculum for your business, on a schedule that is convenient for your operations.
---
FEATURED EVENTS
NEW! Certificate in Sustainability
This program is for professionals such as Sustainability/Environmental Manager, Safety Manager, Business Development Manager, City Planner, Waste Management Professional, Renewable Energy Sales Representative, Supply Chain Manager, Political Strategist or citizens who want to learn more about Sustainability and Environmental Social and Governance (ESG) skills. The learned skills from this course will help you stay up-to-date in your current role or advance your career in the field of Sustainability and ESG. At the end of the course completion you will create a complete Sustainability plan.
Free Environmental Webinar -Adding Environment to your job description
These Free, 1-Hour Webinars will allow you to connect with a field specialist, who will speak on current Environmental topics. Participants will be able to ask and answer questions, and network with contemporaries in their field. Each webinar will cover a unique topic.
Free Environmental Webinar -Adding Environment to your job description
5/11/2023 at 3:00 PM Central Time
---
ADDITIONAL TRAINING
Contract (On-Site) Training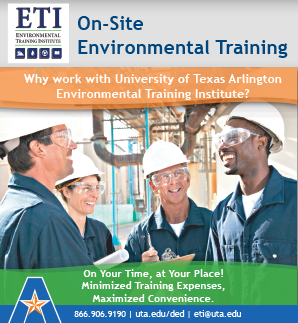 Do you have a specific training requirement? Do you want to tailor your training to meet your specific requirements, regulatory requirements, application, personnel, or situation? We can incorporate your specific requirements to provide custom made training to fit your unique requirements. Contact us today!
Authorized Trainer Program
The UT Arlington Authorized Trainer Portal is a web-based application designed with our trainers in mind to provide a more efficient and reliable method of requesting UT Arlington Authorized Training cards.