CE Conference and Event Management provides complete support for conferences, industry meetings, workshops, seminars, and symposia that is customized to meet your department's needs. We deliver supplemental internal meetings and events staff as needed, as well as provide you with complete turnkey support as your external "Meetings Department." With the experience and staff to oversee all aspects of event management including venue selection, event website development, online attendee registration and payment, budget assistance, on-site management, event marketing, audiovisual and technology requests, and post-conference surveys, we offer a "one-stop shop" for clients to easily plan every aspect of their program.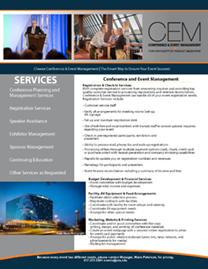 CEM Brochure
Registration Services (we can accept credit cards):
We offer complete registration services from answering inquiries and providing excellent customer service to processing registrations and revenue reconciliation.
Conference Management:
Dedicated to delivering results, we offer a comprehensive range of custom services to meet your specific needs. We will manage the details so you can focus on your organization's goals and clients.
Additional Conference Services: Presenter, Exhibitors & Sponsor Management; Continuing Education Units; Other Services as Requested. Click here for a complete list of services.
Planning an event? We can assist. For pricing information please call 866 906-9190 or submit your contact information here.