The UTA Division for Enterprise Development Environmental Health and Safety (EHS) program comprises two professional and regulatory units, the OSHA Education Center at UTA and the UTA Environmental Training Institute. Together these units form a unified base of curriculum that touches virtually every aspect of technical and occupational knowledge in Safety, Health, Environmental, Risk Management, Sustainability, Disaster Response, and Hazard Recognition with a special emphasis on OSHA and EPA Compliance. Seven professional certifications are available under the multidimensional EHS program.
Click this link to explore the comprehensive suite of Environmental Courses at UTA.
---
Select here

to view the wide variety of OSHA courses we proudly offer.
---
CERTIFICATION PROGRAMS
These programs will expand your knowledge and help you earn that professional credential which could advance your career.
Safety and Health
Environmental
---
WHAT'S NEW - THE BUZZ

Awarding General Industry Certifications - SSH: The UT Arlington OSHA Education Center is excited to announc ce that in December, 2013 the 500th Specialist in Safety & Health (SSH) - General Industry Certification was presented. The UTA OEC is now offering SSH Certifications in the following six fields: General Industry, Construction, Disaster Response, Oil & Gas, Port Safety. and Healthcare. Click here to learn more and view the required courses and electives needed to acquire these certifications. Congratulations to all of our students that have made this possible!


---
CONGRATULATIONS to our first Environmental Science Professional (ESP) recipients. On December 12, 2013, three environmental certifications were recognized in Arlington, TX. Don Carroll - DC Planning Consultants & Associates, Inc. Melinda Griffin - Tanos Exploration LLC. Catrina Shafer - BP Production Company These individuals and their companies recognize the need for continuing education in maintaining their programs and managing environmental risks. Please join UTA in recognizing their accomplishments. For more information on the certification programs offered by the UTA Environmental Training Institute (ETI), click here. Congratulations on your accomplishments!


---
UPCOMING CLASSES
OSHA 510 - Standards for the Construction Industry
Lafayette, LA
February 3 - 7, 2014

OSHA 5810 - Hazard Recognition for Oil and Gas Exploration and Production
Texas City, TX
February 4 - 7, 2014

SH 913 - Trainer Course for Hazard Communication Global Harmonization System (GHS)
Arlington, TX
February 4, 2014

ETI 301 - Introduction to Water and Wastewater Regulations
Houston, TX
February 11 - 13, 2014

ETI 405 - Aboveground Storage Tank/Underground Storage Tank
Arlington, TX
February 11 - 12, 2014

---
OUTREACH TRAINING PROGRAM
The Outreach Training Portal is a web-based application designed to request wallet cards. Visit Outreachportal.com for more information.
---
AFFILIATES
UT Arlington works with local associations and educational institutions to help provide training throughout Region 6 and other locations. This page provides a consolidated listing of courses held at this affiliate location.
---
DOWNLOAD CATALOG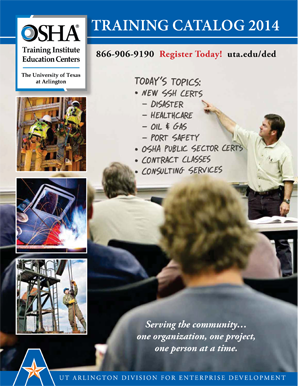 ---